Gun Warga Song by Harvy Sandhu was released on 16 April 2021 on Harvy Sandhu official youtube channel. This song lyric was written by Jeet Kamal Kuhliwala and music is given by Desi Crew. Below we have listed the complete cast and crew members and female model names of Gun Warga Song.
Gun Warga Song Cast
Other Cast & Crew Members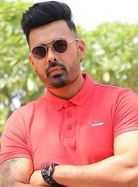 Mix & Master
Sameer Charegoankar
Edit & DI
Garry Khatrao Media
Publicity Design
Roop Kamal Singh
Assistant Choreographer
Robin Singh
Team Believe
Shilpa Sharda & Akshay Kapoor
Reels Promotion
Blue Apple Digital
Online Promotions
GK Digital
Special Thanks
Sanjeev Sharma
Above are the name of Gun Warga Song Cast and crew members. You can find more songs cast and crew members information on our website.