Release Date: 4 January 2021
Title: Bhabi
Singer: Kamal Khaira
Bhabi Song Cast
Hey guys, we are back with another new song cast list, we are providing you Bhabi Song Cast and Female Model Name. New Punjabi Song Bhabi released on 4 Jan. 2021 on the Desi Junction youtube channel. Below you can find Bhabi Song girl model name and cast & crew members' names.
Bhabi Song Starring
Other Cast & Crew Members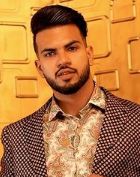 Edit & DI
Garry Khatrao Media
Story, Screenplay & Direction
Garry Bhullar
Digital Partner
Coin Digital
Digital Partner
Coin Digital
Online Promotion
Coin Digital, GK Digital
Above are the Bhabi Song Girl Model Name and cast members name. we have Shared the complete cast and crew member's name of Bhabi Song. Please share your thoughts on this new song cast by commenting below.